Ghanaian Highlife Music Legend  Nana Kwame Ampadu passed away yesterday in Ghana. Nana Kwame Ampadu was a Ghanaian musician credited with numerous popular Highlife music tracks and composed numerous Highlife songs. He was also the leader of the African Brothers Band, formed in 1963.
Nana Kwame Ampadu was born on March, 31st, 1945 in the Eastern Region of Ghana and was named Kwame Ampadu after his father. The African Brothers Band was formed in 1963 in Accra, Ghana. The name African Brothers Band was chosen as support Ghana's first President Dr. Kwame Nkrumah's aspirations of brotherliness and oneness for Africa.
In 1967, Phillips West Africa recorded six songs with the African Brothers Band. Because the company was convinced that the Band was potentially good for recordings as their maiden recording caught on well with the public. In the same year, the director of the Ambassador records Manufacturing Company, Mr. A.K. BADU contracted with the group and recorded eight (8) songs with them. In the same year when the band was based in Kumasi, Ghana, Ghana Film Industries Corporation also contracted the group to record sixteen (16) songs. All these while Nana Kwame Ampadu did not take delight in entering any perpetual contract with any company or individual. The African Brothers had the songs and were ready to record for any company or individual who was interested. It was in 1967 that the band gained accelerating popularity as they had released some sensational catchy songs like OKWADUO, EBI TE YIE, NKRAN ABRABO, KAE WO WUDAMU, and MANOMAA NUA. Producers tried to entice the group with set of musical instruments and the luckiest of them all was D.K. NYARKO, of OBUABA LABELS who later opened more labels, HAPPY BIRD, ADWANA and D.K.N.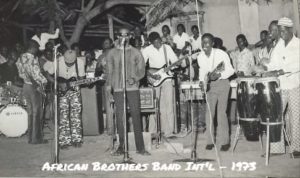 From 1968, the African Brothers band became the "BEETLES" of Ghana. They were so popular that people formed cues to buy their records at the shops.
Sign Up for Brand Africa Group's updates and more interactive content.